Location
The viaduct is situated between Cotmanhay and Awsworth, near the town of Ilkeston, at Ordnance Survey grid reference SK 473 438. There is currently no public access on the viaduct itself but it may be viewed from Newton's Lane and nearby footpaths and trails. Details of footpaths and trails around the site can be seen here. Footpaths and trails.
From Bridge Street, Cotmanhay
The closest access is off Bridge Street (DE7 8RD), but if parking there please be considerate to residents. At the end of Bridge Street go over the canal bridge and turn right onto the canal tow-path (The Erewash Valley Trail). After about 200 metres take the footpath that branches off to the left through the trees and cross the footbridge over the working railway. The path continues underneath the viaduct providing close views of the structure.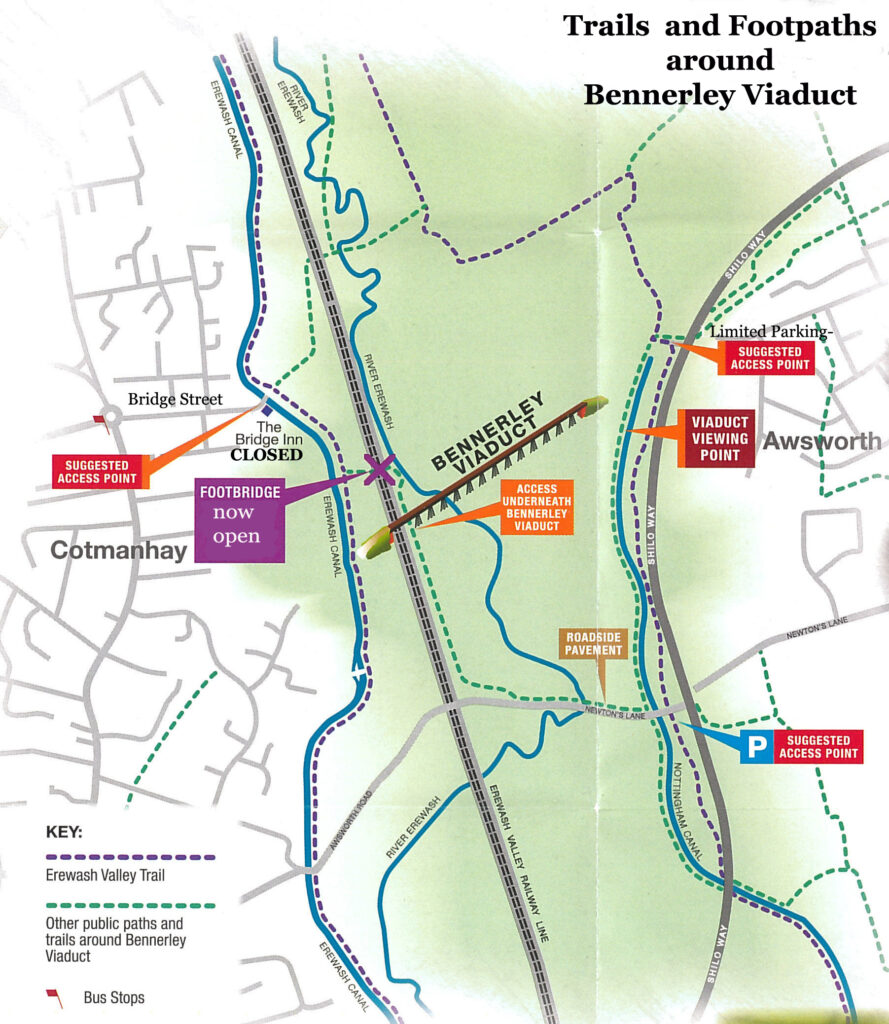 From Newtons Lane Car Park
An alternative is to approach along this path from the south, giving wider views of the structure. There is a car park beside the Nottingham Canal off Newton's Lane at grid reference SK 476 433. The Nottingham Canal tow-path and the Erewash Valley Trail also pass this point. From here, cross to the pavement on the north side of Newton's Lane then walk west alongside the road for 175m until a public footpath is reached after crossing the River Erewash. Follow this footpath for about another (flat) 500m with the viaduct looming larger with every step.
The Viewing Point
The best place to see a panorama of the viaduct is from the viewing point on the Nottingham Canal at grid reference SK 475 438. This can be reached by walking north alongside the canal from Newton's Lane for about 500 metres. There is also a good vantage point from the new footbridge over the railway. See map
Coming by Bus
If coming by bus, there are numerous services to Cotmanhay. Get off at the roundabout junction of Bridge Street and Cotmanhay Road, and from there it's a 5 minute walk down Bridge Street to access the canal tow-path.
Links to timetables below.
Coming from Nottingham
The Two (Trentbarton)
From Derby
From Heanor
From Kirk Hallam
Coming by Train
The nearest train station is the new station at Ilkeston. From there it's a five minute bike ride or a 10 minute walk along the Erewash Canal tow-path (The Erewash Valley Trail) to the vicinity of the viaduct.