Do you have a passion for heritage and the skills to make a difference? Do you have some time to spare for a local icon?  
We are seeking new trustees, to steer Bennerley Viaduct into its next chapter.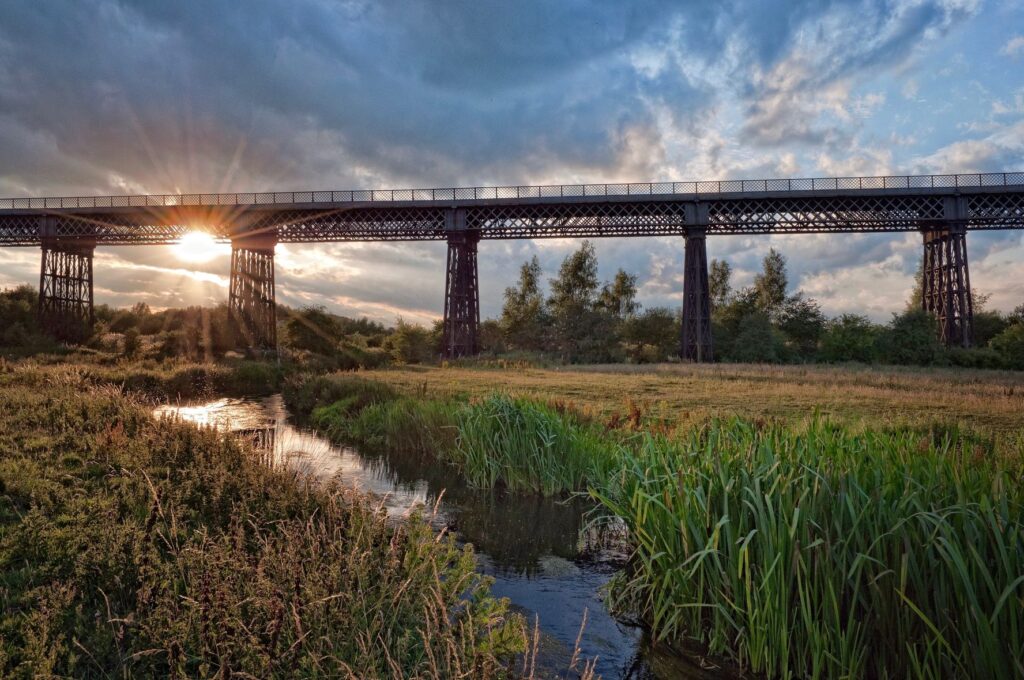 Bennerley Viaduct, an icon of Victorian railway heritage on the Notts/Derbys border, was restored and opened to walkers, explorers and cyclists in 2022. A symbol of pride, driving change and investment in the local community, the viaduct is now a place of curiosity and astonishment, and a haven for nature.
Bennerley Viaduct is the ultimate survivor, and these are exciting times. The charity which manages the site, the Friends of Bennerley Viaduct, is now seeking new trustees with the right skills, experience and mindset to guide the next stage of its redevelopment and rediscovery.
All applications will be considered, but the Board are especially excited to hear from those with new perspectives, and those who have skills in heritage/visitor attraction management, charities and fundraising, and strategic planning.
HR, finance and marketing skills would also be very welcome. 
The Story of the 'Iron Giant of the Erewash Valley' in brief
Built in 1877-78 by the Great Northern Railway Company as part of the Friargate extension, connecting Nottingham to Staffordshire, via Derby.  
Crosses the Nottinghamshire/Derbyshire border between Awsworth and Cotmanhay.  
A busy branch line carrying coal and industrial materials, as well as passengers, but close in the aftermath of the Beeching cuts in 1968.  
Avoided demolition to be one of only two remaining wrought iron viaducts left standing in the UK – and the longest and most well preserved of the two.  
A Grade II* listed structure, various attempts to rescue and restore the viaduct finally came to fruition in 2022 with the installation of decking and access points at both ends, so visitors can walk and cycle across the structure.  
Recipient of £250,000 from the National Lottery Heritage Fund in 2022-24, for a programme of engagement activities and strategic planning.  
Recipient of over £1million from the Levelling Up Fund to construct a ramp and visitor facilities at the eastern end of the viaduct between 2023 and 2025.  
Placed on the World Monuments Fund Watch List in 2019.  
Owned by Railway Paths Ltd. and managed by the Friends of Bennerley Viaduct (a CIO formed in 2019) which took the lease in 2022.  
Charity works in partnership with stakeholders across the local community and community of interest.  
Charity currently employs 3 part time staff as a result of National Lottery Heritage Fund support, and has a large volunteer-base.  
The next chapter
Now Bennerley Viaduct has been restored and reopened, the Board are looking to answer the question of what the next chapter of the Iron Giant's story will be, and how this will continue the journey towards creation of a community-focused, resilient heritage attraction. To reach this goal, the charity is seeking to strengthen and grow the Board of Trustees. The next step involves ensuring the business case and strategic plan are sound, reviewing fundraising and income streams, creating an audience engagement plan, and seeking further collaborative work with local partners.
Being a Trustee  
6 full Board meetings a year (usually 7pm-9pm, in person in Ilkeston, but with a hybrid option via Zoom) 
Additional subgroup meetings depending on trustee role and current work: no more than one per month (can be hybrid by arrangement and timing by arrangement)
Trustees call on their judgement, and understanding of their own capacity, to use their skills and experience to contribute to various aspects of governing the charity and its activities. This is a 'hands on' role in an evolving charity and you will be expected to be an active part of collective planning and decision making.  
Some activities involving trustees, such as training and planning workshops, do take place during working hours on weekdays, although Board meetings will always be in evenings.  
You will be offered the chance to undertake training in areas such as good governance, charity finance, HR, inclusion and diversity and more.  
Reasonable out of pocket expenses will be reimbursed.  
The Friends of Bennerley Viaduct is a Charitable Incorporated Organisation. For information on what being a trustee means, click here.
The application process
By application form and covering letter. Please initially express your interest and request an application form by contacting John Scruton, Chair of Trustees, at johnscruton@bennerleyviaduct.org.uk
Your application will be followed with an invitation to join a panel of trustees for a relaxed interview, either in person or online, to ascertain whether the role is a good fit for both sides.
We will be in touch soon after your interview: if you choose to accept the role you will be invited to a friendly induction session alongside other new trustees and some of the existing board.  
Closing date: 5pm on 30 April 2023