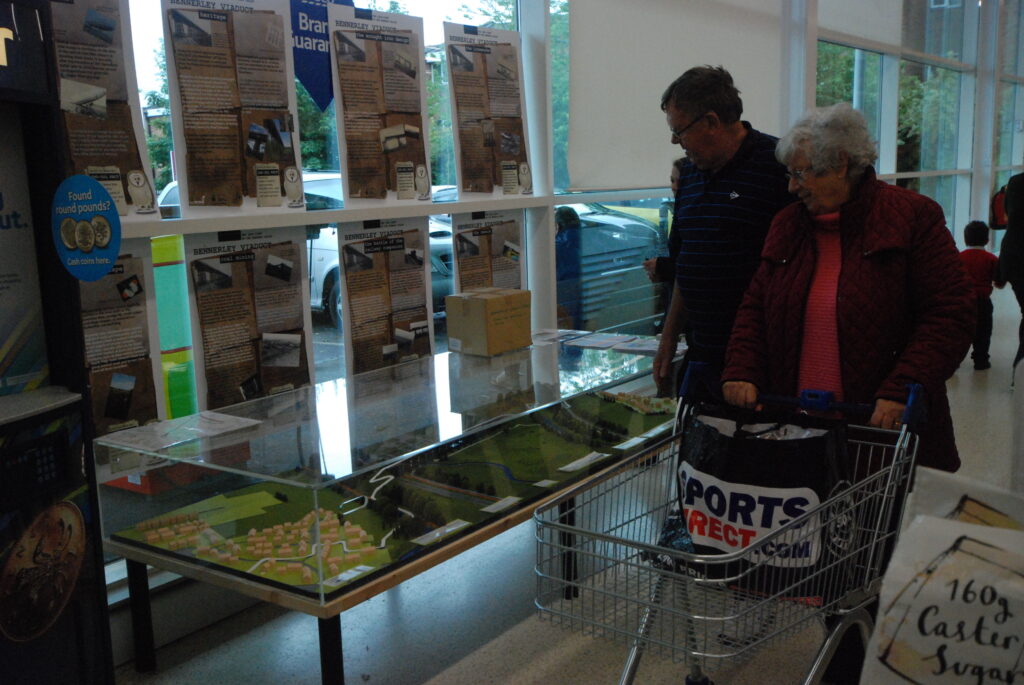 With a weekly footfall of over 30,000 local shoppers,  both Sustrans and the Friends of Bennerley Viaduct  were  delighted when Tesco offered to host our exhibition over the months of June and July.  The scale model of the viaduct really caught the attention of shoppers as it was installed near the checkouts. The model of the viaduct brought back memories to many shoppers who retold stories of travelling over and playing under the viaduct in the days when steam trains ran out of Ilkeston.
Kieran Lee, Community Engagement Officer of the project is delighted with the response of the community and grateful to Tesco's for their support for the project. He said "Displaying the Exhibition in Tescos is a brilliant way of engaging the local community with the project to reopen Bennerley Viaduct as a walking and cycling Trail. The response that we have had from the community has been truly magnificent. We hope to capture some of those important stories which are an important part of the viaduct's rich history"
Angie Young, Community Champion for TESCO said "The Bennerley Viaduct is an important local landmark and we see this important work as a positive step to bringing community cohesion firstly through volunteering opportunities and also employment opportunities to a deprived community at a later date.   Angie added "This area is full of natural beauty and historic interest which will be opened up for both local people and those from farther afield."
Have a look at the exhibition if you are going to Tescos – We are getting more leaflets printed and they should be in the store soon.